Vinyasa Flow by Atilia Haron
Class Level: All level (beginner friendly)
Intensity: Moderate
Language: English
Props :  
How to Join:

 

You will receive emails which include Zoom link to attend the class. If you can't find them, kindly [1] check your junk mail box [2] contact us before the class begins.)
Capacity :

 

300 (We have increased the capacity from 100 to 300 so that more people can join)
Recorded video : Not available
About Atilia Haron
Atilia is a RYT 200 (Registered Yoga Teacher) and the founder of the Yogaonethatiwant (YOTIW) chain of yoga studios spanning various locations in Malaysia. She is also a brand ambassador for Under Armor.

Her yoga style has its roots in Vikasa Yoga and she mixes it up with power flows and a good measure of her own personal style. Always seen with a huge smile on her face and an infectious passion for all things yoga, this fun-loving yogi's journey started on a far less happy note. Plagued with chronic back pains and shortness of breath, Atilia turned to yoga for an answer to her mounting health problems.

She discovered that yoga had the ability to greatly reduce anxiety and improve breathing, which in turn proved invaluable in her singing career. Yoga also helped to improve her overall fitness and mental strength, enabling her to remain energized and focused in spite of her hectic schedule.

In 2018, she was given the award 'Yogi of the Year 2018' by Yoga Journal Singapore. Yoga Journal believe that Atilia has played an impactful role in influencing many individuals regardless of race and religion to open their minds to practice yoga and reap its physical and mental benefits

In addition to her yoga empire, Atilia is also an accomplished singer/songwriter and recording artiste. She has made appearances at major events such as the World Economic Forum in Davos and the US-Asean Summit Gala Dinner, performing for world leaders and luminaries.
Yogi of the year 2018 awarded by Yoga Journal
Customer Reviews
I recommend this product
My very first yoga and turns out all good!
It's my first time to attend virtual yoga session and also a beginner to Yoga. Nice explanation and calm session. Able to catch my breathe and follow the guidance from Atilia. I sweat a lot during the program and didn't expect this.
06/26/2021
Anonymous

Malaysia
I recommend this product
An hour with Atilia Yoga
Swift, grace, and effortless! Enjoyed the class pretty much!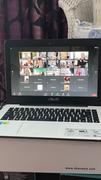 06/26/2021
Alia A.

Malaysia
I recommend this product
Great class!
Atilia is great for all levels.